Wave The Flag...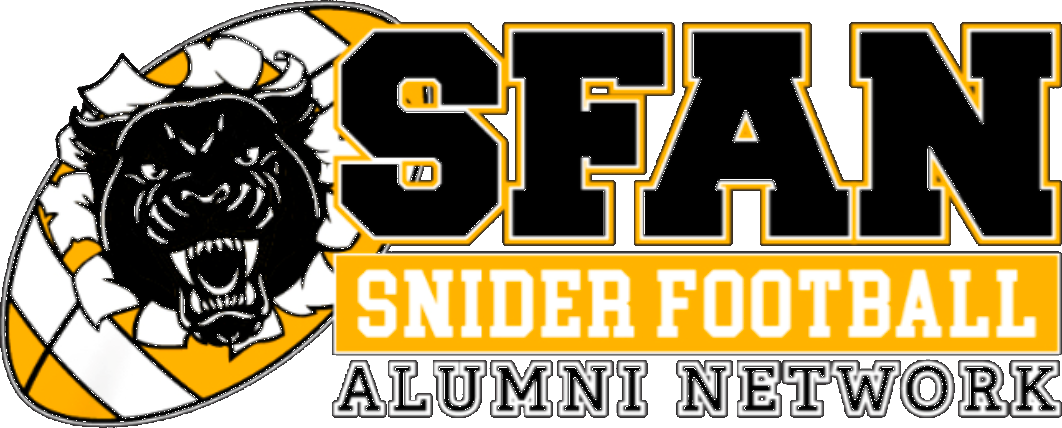 SFAN is a 501c3 non-profit organization
Bringing together Panthers to build connections through the Snider Football Alumni Network. Your generosity strengthens Snider Football and creates a powerful network of alumni in Indiana & around the country.

DISCLAIMER: The Snider Football Alumni Network is not part of or affiliated in any manner with Snider High School, the Snider High School Athletic Department, or the Booster Club. While it will always be our purpose to partner and support Snider High School, the Athletic Department, the athletic staff, and Booster Club in common projects beneficial to the football program, our mission is to provide a network for financial support of the football program from former players, coaches, administrators, faculty, staff and supporters.
Learn More...
---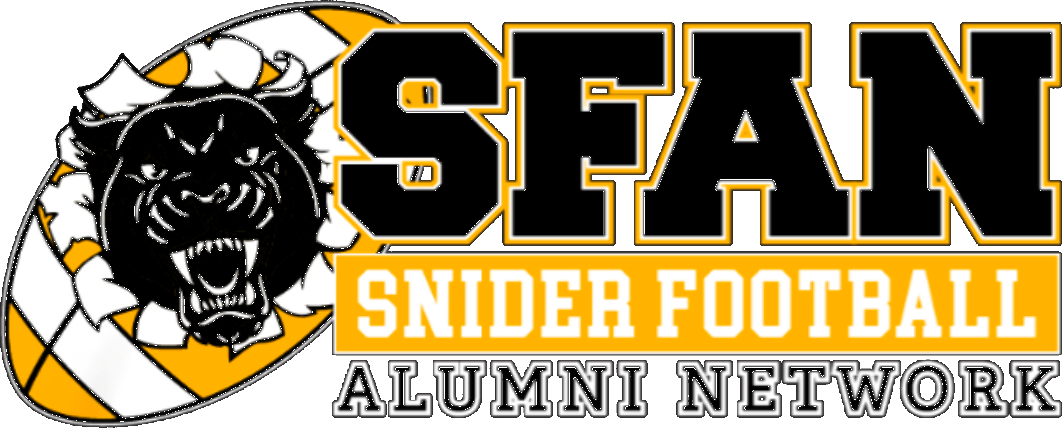 SFAN is a 501c3 non-profit organization
OUR WHY
SFAN is a 501c3 non-profit organization
Snider Football, there's nothing like it! We share a common bond and pride that few can understand and truly appreciate. And we all agree, our time at Snider as Panther Football players has had an enduring impact on the course of our lives. It has truly helped shape us and who we are as individuals today. The question is, "What will our legacy be for those who follow in our footsteps?"
Snider Football needs our URGENT help. Funding for high school athletic programs grows increasingly difficult with limited dollars to share among schools. Snider is competing against other SAC schools that have larger enrollment numbers and larger donor bases. The competition for players is fierce within the conference.
The Snider Football Alumni Network has identified providing team meals and purchasing a protein shake dispenser as the #1 priority of providing financial support for Snider Football this year. It is our opportunity to give financially so that other student athletes may experience and benefit from playing football at Snider.
Think of the impact we can have on the lives of future Panthers and helping in the success of Snider Football by working together. Please consider making a gift to SFAN.
---
SFAN is a 501c3 non-profit organization
Mission
The Snider Football Alumni Network (SFAN) mission is to create a network of former players, coaches, staff and supporters to raise funds exclusively for the Snider Football program. SFAN funds will be used to support the academic, athletic, personal and physical development of Snider Football players, equipment and facility enhancements. Our goal is to create a focused network to help support the Snider Football program's pursuit of excellence while facilitating a continuous connection to the program. SFAN will fully leverage its resources to ensure Snider Football players have what they need to compete at the highest level on and off the field.
---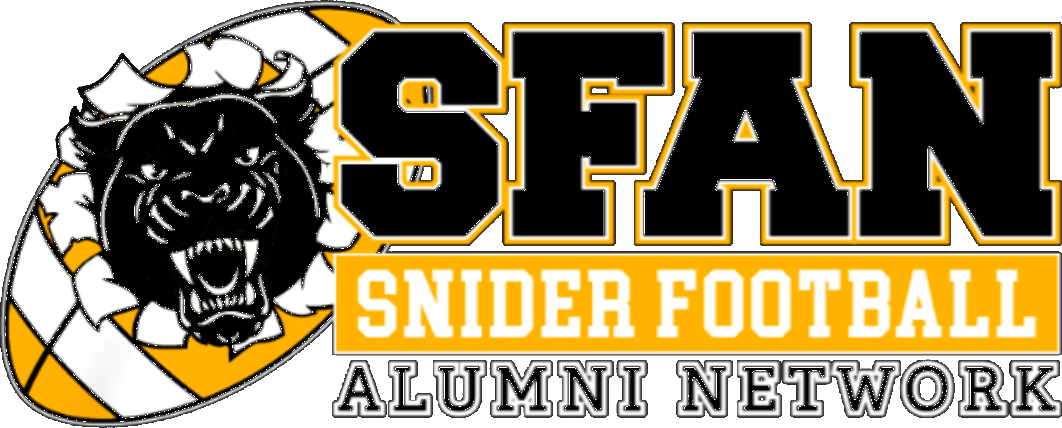 SFAN is a 501c3 non-profit organization
Core Values
Advocacy: We are leaders in advancing the quality and stature of Snider Football. We encourage volunteer and philanthropic support of the Snider Football program.
Education: We value education and are dedicated in supporting student athlete development. We believe in lifelong learning.
Diversity: We value and engage diverse Snider Football constituents.
Community: We value open communication between all contributors to Snider Football (alumni, students, faculty/staff, friends of the program, and supporters) to build and maintain strong relationships.
Service: We are committed to improving our local communities through community-service involvement.
Interdependence: Led by self-governed volunteers, we are the voice of Snider Football alumni.
Excellence: We commit to the highest quality in all our endeavors (honesty, integrity, and accountability).
---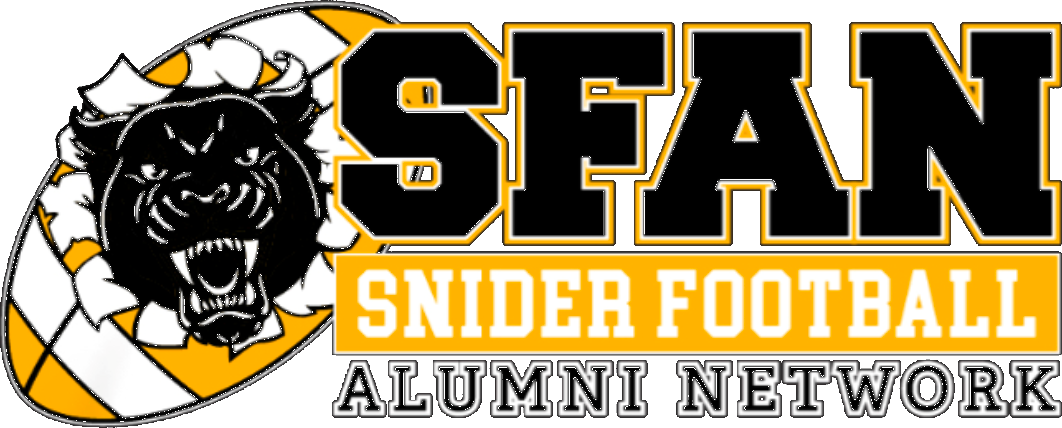 SFAN is a 501c3 non-profit organization
Vision
Phase 1 - 2023
-Membership
-Website
-Team Meals
-Protein Shake Dispenser
Phase 2 - 2024
-Fundraiser
-Mentor Program
-Scholarships
-SFAN Social Event
Phase 3 - 2025
-SFAN "Big Project"
-Alumni Job Board on SFAN Website
-Career Day
---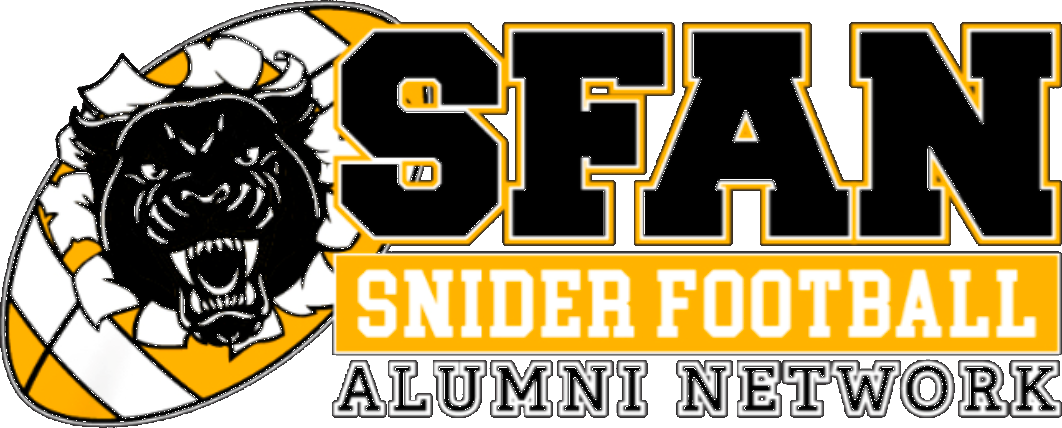 SFAN is a 501c3 non-profit organization
Membership
-Once a Panther, always a Panther. Snider Football is a way of life for players, their families and football fans. We've lived our memories. It's time for a new generation of Panthers to live theirs…to write their chapter of the Snider Football Legacy. With SFAN supporting current and future players, they will be Panther proud knowing they have the power of Snider Football and its generations behind them.
-Membership in the Snider Football Alumni Network provides a direct connection to the continuing winning tradition! All former players, coaches, managers, cheerleaders, Snider High School alumni, parents of Snider Football alumni and supporters of Snider Football are eligible to join. All funds raised go directly to SFAN.
Member Benefits
The Snider Football Alumni Network offers five different levels of membership with additional benefits depending on the amount of the membership donation. You are part of a program and brand that has posted a record of 514-145-3 (78%) in 58 years of varsity competition for Snider High School
| Level | Amount | Benefits |
| --- | --- | --- |
| Starter | $120 or $10 monthly | SFAN T-Shirt |
| All-SAC | $300 or $25 monthly | Above + SFAN Cap/Beanie + Home Game Season Pass |
| All-State | $600 or $50 monthly | Above + SFAN Sweatsuit |
| All-American | $900 or $75 monthly | Above + SFAN Jacket Vest |
| Hall of Fame | $1200 or $100 monthly | Above + SFAN Personalized Decanter |
---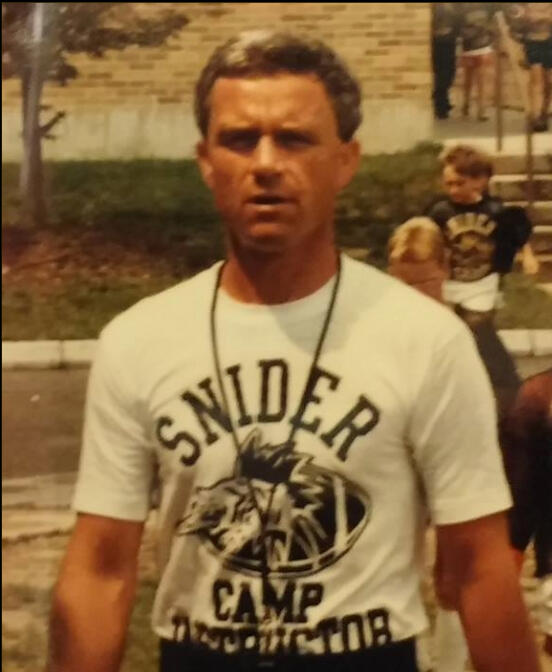 Coach Mike Hawley "Legacy" Scholarship
125 Wins All-Time
75% Win Pct.
From 1976-1990, Mike Hawley served as the head coach. He compiled an overall record of 124-41-0, including four SAC Championships, four Sectional, four Regional, two Semi-State and two State Runner-Up titles.
The Mike Hawley Legacy Scholarship is awarded to a Snider Football player who is a direct descendant of a relative (parent, grandparent or great-grandparent) who is an alumnus of Snider High School. The award is merit-based and the student must show strong leadership skills, and outstanding academic record and broad extracurricular interests.
To honor all the young men he has had the pleasure to coach, The Mike Hawley Scholarship Fund will provide financial assistance to student-athletes attending college or a trade school. Scholarships are presented by the Snider Football Alumni Network (SFAN).
SFAN is a 501c3 non-profit organization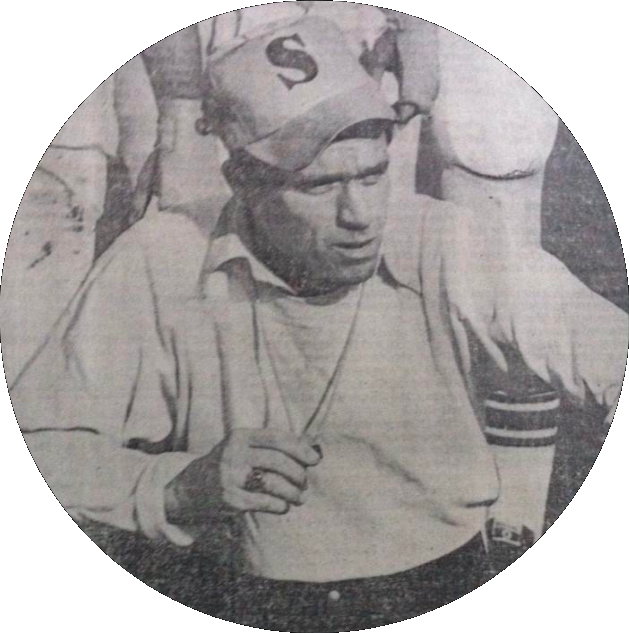 ---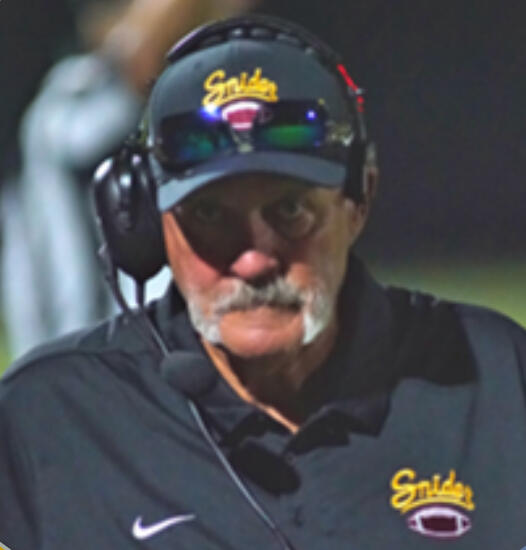 Coach Russ "Ike" Isaacs Scholarship
194 Wins All-Time
86% Win Pct.
Named after former Head Coach, the Russ Isaacs Scholarship assists current Snider Football student-athletes with a one time scholarship for the up coming school year, 2023-2024. This player will be continuing his football career at an accredited DII, DIII, NAIA or Junior College program.
Russ Isaacs became the Panthers' fourth head coach in 1991 and served in that capacity through 2008. The Indiana High School Football Hall of Fame Coach directed the Panthers to a 194-32 record. Under Coach Isaacs' direction, the Panthers won nine SAC titles, thirteen Sectional titles, seven Regional titles, three Semi-State titles and the 1992 5A State Championship.
ELIGIBILITY:
-All college-bound seniors of Snider High School and a member of the Snider Football Panthers program (minimum 3 years)
-Maintain a cumulative grade point average of 2.8 or better
-Display leadership skills in school
-Be accepted into an accredited DII, DIII, NAIA or Junior College to continue their co-curricular football careers
-Enrolled full-time with at least 12 credits per semester
-Must be a student in good standing
SFAN is a 501c3 non-profit organization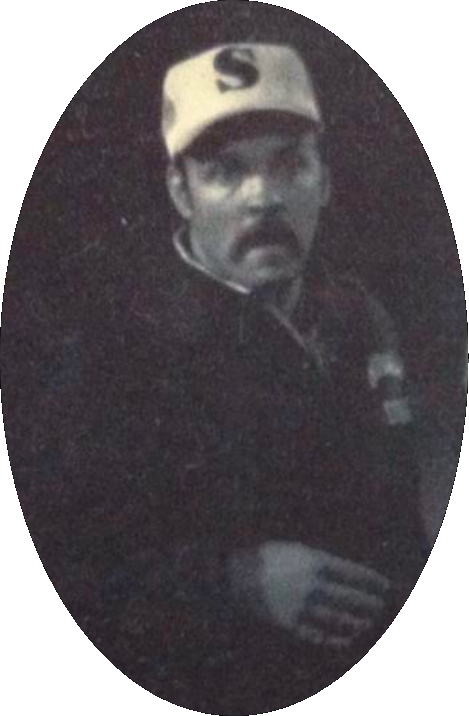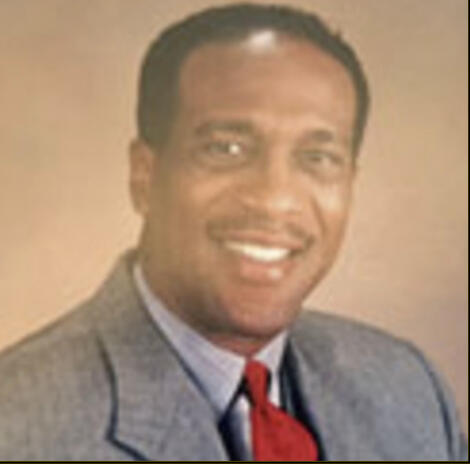 Dr. Dwight Eugene Mosley Scholarship
The Dr. Dwight Eugene Mosley Scholarship has been established by Dr. Mosley's son,
daughter-in-law, and wife. Dr. Mosley was born in Edenborn, Pennsylvania and raised in
Pittsburgh, Pennsylvania. Dr. Mosley was an academic scholar and stellar athlete in high
school and college, and had the opportunity to try out as a professional football player.
Throughout Dr. Mosley's life he had a commitment to help others and his community.
Dr. Mosley's son, Dr. Dwight Mosley Jr. is a former Snider football player and captain.
He once held the schools career tackle record and was also chosen as one of Snider's top
50 football players.
The Dr. Dwight Eugene Mosley Scholarship was set up to continue the legacy of selfless
service. The goal is to preserve his memory while also providing financial assistance to
college bound African American students.
ELIGIBILITY:
-Must be African American
-Maintain a cumulative grade point average of 3.0 or better
-Must be a person of integrity and high moral standards
-Demonstrated school and community involvement
-Be accepted into an accredited University or Junior College
-Currently enrolled at Snider High School with at least 12 credits per semester
SFAN is a 501c3 non-profit organization
SFAN is a 501c3 non-profit organization
Networks & Programs
Our powerful alumni network-more than 1,500 strong- is an invaluable resource. We invite you to take advantage of the many ways to stay connected and opportunities to you, including networking and social events. You will always have something in common when you're in a room full of Panthers!
SFAN connects you to
everything Snider Football:
-Snider football history and traditions
-Get to know Snider Football professionals, they may know someone else to get to know too (that's networking).
-SFAN will host social events to bring former players and supporters together to reminisce and share in that special bond that we all have as Snider Football Family
Alumni–Owned Businesses
We are so proud of our many alumni who have gone on to open successful businesses. If you are an alum business owner and wish to be added to this list, please let us know!
Alumni Success Stories
Prominent alumni doing amazing things!
Alumni Mentoring Program
This program brings current players and alumni together to help pave the way for students to succeed at Snider and beyond. It also provides our alumni with great reason to stay engaged with Snider football.
Alumni Job Board
Stay in touch with your former teammates and find resources to support your career.
SFAN is a 501c3 non-profit organization
Mentoring Program
Panther-Panther
The Snider Football Alumni Network Mentoring Program (Panther-Panther) is focused on developing leaders. Our ambition is for student-athletes to take the skills and abilities developed as members of the Snider football program into the broader world to lead meaningful lives while impacting society in profound ways. SFAN's Mentoring Program was created as a platform to foster relationships between past and present Snider football players to provide guidance, wisdom, and opportunities to the current generation of Panthers. The program includes both alumni-to-alumni mentorship and alumni-to-student mentorship, enabling alumni to share their professional and personal experience and expertise with current students and young alumni.
Who can be a mentor?
An alumni mentor is a guide, friend, and resource who shares educational and professional experiences to provide career guidance and professional contacts. Alumni mentors are partnered with students based on similar career paths, interests, and goals.
If you are a Snider football alumn, you are encouraged to participate in the mentorship program, as your story may be one that helps another Panther. As a mentor, you will serve a role in the professional and personal development of your mentees. You will help your mentees navigate challenges, set goals, learn professional behavior, and identify the options ahead of them. Through regular connection and intentional interactions, you can have a long-term impact on your mentee.
Who can be a mentee?
Students will be partnered with an alum whose education and career closely matches the students to gain direction and potential career goals and connections.
If you are a young alum or current Snider football player, you can be a mentee. As a mentee, you will gain knowledge from your mentor and must have the ambition to practice and demonstrate what you have learned. Your role is to identify your goals and needs while gauging whether you're getting what you need from your mentor.
SFAN is a 501c3 non-profit organization